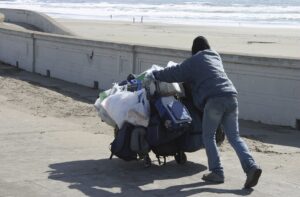 Today, we want to recognize the San Francisco Chronicle and 70 other news organizations for joining together in a media takeover to address homelessness in San Francisco. Chronic homelessness has been an issue in San Francisco for decades, but has become more extreme and widespread in recent years. By giving voice to people who are themselves homeless, local politicians, social workers, counselors, and local construction companies, reporters around the Bay are able to create a comprehensive snapshot of the underserved homeless population. This project takes into consideration new statistical data and advancements in public policy (i.e. new Medicare regulations that allow funding to be used for affordable housing) and is focused around evaluating possible solutions for San Francisco in the coming years.
Maven was founded on the premise that any challenge, from homeless housing to organizing the Olympic Games, can be best addressed by sourcing the right expertise to evaluate solutions from every angle. Our newest product, the Virtual Ideation Panel (VIP), was launched last month with this principle in mind. The tool provides a forum for discussion amongst experts and on-the-ground professionals, who collaborate round-the-clock to generate actionable insights and creative solutions to the topic at hand. The panel format provides a platform for organic debate and collaboration, eliminating the risk of persuasion that can occur in traditional market research and other forms of curated research and analysis. Our customers are thrilled with the results thus far, and we look forward to the continued use and success of the VIP capability for our customers' future initiatives.
With Maven's headquarters based here in the Bay Area, we are optimistic about the use of this collaborative approach to address the complicated challenges facing our community. In our own experience, we've seen our customers find sustainable and effective solutions through collaboration and feedback from diverse perspectives. We're looking forward to following the developments from The Chronicle's much-needed organization and coverage.