Greetings from Maven. This month we thought it would be fun to share some examples of how our customers have used Maven to gather insights and address major business challenges. Check them out to learn how you might be able to profit from Maven!
New Answers to Age Old Questions
How do foods interact with each other to help or hurt you? Are there "synergies" between specific foods that yield benefits that exceed those of individual foods alone? What is the balance between flavor and nutrition?
Recently a major international food manufacturer used Maven to find new answers to these age old questions.
Through Maven Workshops, a select group of experts is helping a global building products company apply new technology to a mature industry – with potentially disruptive results!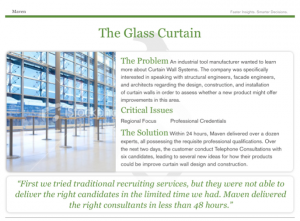 Microconsulting vs. Traditional Consulting
In head-to-head race against a "Big 5" consulting firm, Maven wins running away.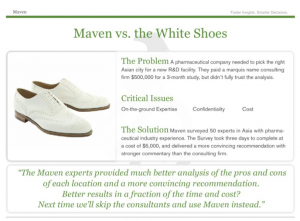 Finally, if you missed open2012, our inaugural Open Innovation conference last month, we have posted complete video from the event here. It was a smashing success, with over 200 participants and some fantastic presentations that I think you'll enjoy.