Maven Aligns with BroadBranch Advisors to Offer New Services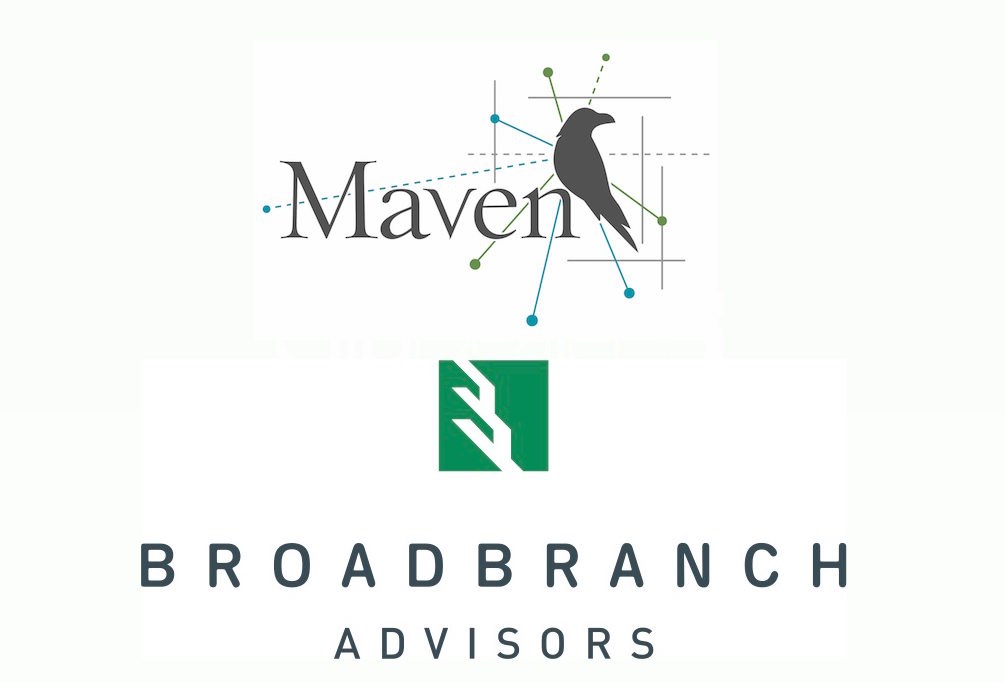 San Francisco, CA (PRWEB) — September 12, 2016
Maven, the world's first knowledge discovery platform, announces an expanded partnership with BroadBranch Advisors, a professional services firm that delivers market insights and actionable corporate strategy. Maven and BroadBranch® have worked together for several years due to their overlapping vision, ethics, and complementary products. Their partnership has resulted in new opportunities for all customers: the Insight Engine™ Express and the Insight Engine Skills Seminar for Maven customers, and the Maven
knowledge discovery platform for BroadBranch clients.
BroadBranch's proven methodology to uncover hard-to-find business information, the Insight Engine, was developed from more than ten years of global experience in research, networking, and the psychology of conversations. The Insight Engine delivers actionable client recommendations based on comprehensive market data and deep perspectives sourced in real-time from industry experts.
Maven customers will now have access to the Insight Engine Express, gaining further support for their most difficult or pressing challenges. Customers can take advantage of professional interviewing skills, custom-sourced insights from hard-to-reach professionals, and double-blind interviews for unbiased perspectives. The Insight Engine Express will provide an even greater degree of customization of the Maven platform while maintaining rigorous ethical standards that are fundamental to both Maven and BroadBranch. As Wyatt Nordstrom, CEO and Founder of Maven, explains: "Unlike some so-called expert networks that broker unethical "anonymous" telephone consultations, our partnership with BroadBranch gives our customers an opportunity to get privacy and insights in a professional, comprehensive, and ethical manner."
Maven customers will also have the opportunity to leverage the Insight Engine Skills Seminars to develop their marketing, sales, and strategy personnel. The Skills Seminar offers BroadBranch training in areas such as data collection methods, direct sourcing of expert perspectives, and results analysis. John Hedden, a BroadBranch Partner, observes that "the Insight Engine skills can be invaluable to even seasoned business professionals that want to enhance their skills in gathering current and accurate perspectives from the market."
BroadBranch customers will now have access to Maven's Global Knowledge Marketplace and professional assistance from Maven staff to navigate the platform. BroadBranch Partner, Matt Polak, adds that "the Maven platform is an elite service that we have leveraged for years and want to introduce to our clients via our expanded Maven relationship."   
This new line of services is available immediately.
About Maven 
Maven makes you smarter. Maven has built the fastest and easiest way to connect and consult with knowledgeable people all over the world. Created by three technology industry veterans who were tired of making critical business decisions with imperfect expertise, they created a service to help businesses find the person with the right experience and knowledge to answer their questions. Maven delivers expertise on demand to professionals in every industry and powers knowledge networks for some of the world's largest companies.
About BroadBranch Advisors
BroadBranch's mission is to help our clients better understand the business world. We focus on uncovering hard-to-find information and developing market perspectives in a fully ethical manner.  We value every relationship and believe in the power of information and healthy competition to drive economic value and opportunity for all.
BroadBranch is a registered trademark of BroadBranch Advisors, and Insight Engine is pending registration.
# # #